I got the Mansur Gavriel mini lady bag in brandy vegetable tanned leather with a brick matte interior back in April. I've been using it on and off.
Leather – vegetable tanned vs saffiano vs calf leather: Ever since I laid eyes on MG, it's always been love at first sight with the caramel brown hue called brandy. This color only comes in vegetable tanned. The saffiano lady only comes in black, which is a bit boring since I already have a black saffiano bucket bag. It is a nice bag though for those who are looking for a more structured, super low maintenance material, and another black bag. I also think the black saffiano makes it more formal — and a perfect work/travel bag. I never liked the look of the lady in calf leather — the top gets pulled by the rest of the bag.
Size – mini vs regular: I typically do not carry a lot. I already have a number of larger bags and was looking for something smaller, but bigger than my APC Half Moon bag. The regular lady would fit a 13″ Macbook Pro if you loosen the drawstring. If you've seen the buckets in its regular and mini size, the regular and mini lady bags hold about the same volume as its bucket counterparts.
Here are some size comparisons:
Brandy mini lady in vegetable tanned vs. regular lady in black saffiano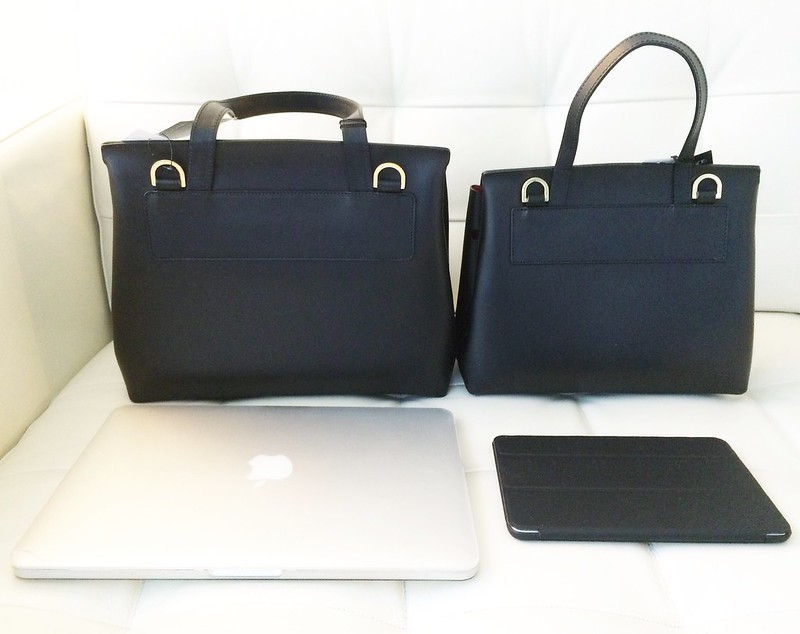 Regular lady in black saffiano and my Macbook Pro 13″ vs black mini lady in vegetable tanned and my iPad mini
Maintenance: I'm not particularly fond of bags that have a lot of wear. That's why I gravitate towards textured leather like saffiano. This brandy bag was the most high maintenance bag I've ever owned in that I had to buy leather conditioner and protectant. This is absolutely necessary if you want a vegetable tanned MG bag and don't want to trash your bag/investment. I conditioned before using it (it looked really dry when it arrived) and protected it after I had a little accident. I had delayed the protectant because the spray is stinky and I just didn't have time to do it. Buying this bag forced me to learn how to maintain leather.
Also, there is something dainty about brandy in particular. I purchased many brandy bags and the majority of them had scuffs or scratches on them. I highly recommend buying vegetable tanned bags from a place with a return policy if you're sensitive to marks on bags. The combination I ultimately decided on (brandy exterior and brick interior) in the mini size was only available from MG's own site, so I had to cross my fingers and hope for the best since they do not take returns.
How to Condition/Protect Vegetable Tanned Leather:
Detach all pieces so they can be conditioned separately.
Wipe everything gently with a baby wipe. I use Huggie's Natural Care. After having an accident on the way to work, I now have a pack of these at work as well. Anything happen to your bag? Wipe as fast as you can.
Condition vegetable tanned leather with Chamberlain's Leather Care #1 (also known as leather milk). I bought #1 rather than the others because I did not want premature darkening of the leather. I highly recommend reading their FAQ before starting. Use very small amounts.
Since the lady has more corners/crevices, I found that a microfiber towel worked better than the pictured complimentary pad that came with the conditioner. I also busted Q-tips out for small corners and went over the straps multiple times. It's better to underapply than overapply.
I inverted a large vase and set the bag upside down for optimal drying. The first few times, I let it dry overnight. As you can see, my first application looked patchy as it was drying but came out fine.
For water protectant, I got the Collonil Waterstop Spray. It smells awful. I do not have outdoor space, so I had the windows open and fans running to vent out the smell. The spray came out a bit drippy despite a straight angle or further distance. I repeated the spray, dry, and re-spray process twice. Whatever droplets you see will dry up perfectly.
These photos were taken before and during the conditioning process. I posted these on my Instagram as well. I babied the bag when I first got it but am less so now that I have seen the magic of the Chamberlain #1 and what it does to scratches and parched looking leather. (I need to try it on other leather products.)
What I really like about it:
The simple design and almost invisible branding.
It can fit my daily needs – wallet, pouches, small water bottle, mini umbrella, etc. – and everything is easy to find.
I love the color! The color is richer than when I first got it and there is a glow (see how the top strap reflects on the flap). I will attribute it to the leather milk. The color can vary depending on the lighting.
It comes with a detachable crossbody strap. I wear it equally on the shoulder, crossbody, and by carrying it by the top strap.
Similar to the buckets, it's super lightweight.
The stiffness has pretty much stayed the same, which I like. It usually won't stand up on its own.
You can dress it up or down whereas the bucket is more casual.
This had been in rotation for the week and this is its raw state.
A peek inside. The brick color is a little lighter than brandy. I didn't care for the other brandy interior colors such as avion. And really, you don't see the interior as often as the bucket bag's.
What I don't like about it:
The leather is high maintenance as described above. It's not a 'wash and go' type of bag, nor one you would trash at $750 + tax. (I don't believe in trashing bags at any price point unless it's a trash bag).
The closure is fussy. You're supposed to loop the straps through a opening on the bottom of the flap (unpictured) and then through the opening on the front of the bag. I never do this because I'm lazy. I commute through NYC regularly and if I feel unsafe, I will carry the bag towards the front of my body. It also helps to tighten the drawstring.
I haven't adjusted the cross body's strap length, but sometimes it doesn't hang as comfortably when I wear it crossbody.
Conclusion: I love the brandy color and am very happy with the mini lady style as an everyday bag when I don't need to carry too much. Despite being used to low maintenance bags, I don't mind being forced to learn how to maintain leather. The bucket is a classic design and ubiquitous, but the lady style is uniquely MG's.
Where to Buy: Check this post.